G a m e C u b e
Presentation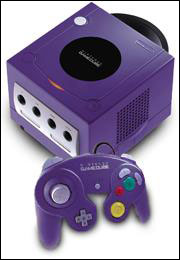 Nintendo GameCube™ Technical Specifications
MPU ("Micro Processing Unit"): Custom IBM Power PC "Gekko" manufactured with 0.18 micron IBM Copper Wire Technology, running at 485 MHz
CPU Capacity: 1125 Dmips (Dhrystone 2.1)
Internal Data Precision: 32-bit Integer & 64-bit Floating-point
External Bus: 1.3 GB/second peak bandwidth
32-bit address space
64-bit data bus
162 MHz clock
Internal Cache: L1: Instruction 32KB, Data 32KB (8 way) L2: 256KB (2 way)
System LSI: Custom ATI/Nintendo "Flipper" manufactured with 0.18 micron NEC Embedded DRAM Process
Clock Frequency: 162 MHz
Embedded Frame Buffer: Approx. 2 MB
Sustainable Latency: 6.2ns (1T-SRAM)
Embedded Texture Cache: Approx. 1 MB
Sustainable Latency: 6.2 ns (1T-SRAM)
Texture Read Bandwidth: 10.4 GB/second (Peak)
Main Memory Bandwidth: 2.6 GB/second (Peak)
Pixel Depth: 24-bit Colour, 24-bit Z Buffer
Image Processing Functions: Fog, Subpixel Anti-aliasing, 8 Hardware Lights, Alpha Blending, Virtual Texture Design, Multi-texturing, Bump Mapping, Environment Mapping, MIP Mapping, Bilinear Filtering, Trilinear Filtering, Ansitropic Filtering, Real-time Hardware Texture Decompression (S3TC)
Real-time Decompression of Display List, HW 3-line De-flickering filter
Sound Processor: Custom Macronix 16-bit DSP
Instruction Memory: 8KB RAM + 8KB ROM
Data Memory: 8KB RAM + 4KB ROM
Clock Frequency: 81 MHz
Performance: 64 simultaneous channels, ADPCM & PCM encoding
Sampling Frequency: 48KHz
Floating-point Arithmetic Capability: 10.5 GFLOPS (Peak)
(MPU, Geometry Engine, HW Lighting Total)
Real-world polygon: 6 to 12 million polygons/second (Peak)
System Memory "Splash": 40 MB
Main Memory: 24 MB MoSys 1T-SRAM
Approx. 10ns Sustainable Latency
A-Memory: 16 MB 81 MHz DRAM
Disc Drive: CAV (Constant Angular Velocity) System
Average Access Time: 128ms
Data Transfer Speed: 16Mbps to 25Mbps
Media: 3 inch Nintendo GameCube Disc (based on Matsushita's Optical Disc Technology)
Capacity: Approx. 1.5GB
DVD, CD, VCD, CD-R, DVD-R compatible (Panasonic version only)
4 Controller Ports
2 Memory Card Slots
Analogue AV Output
Digital AV Output
2 High-Speed Serial Ports
High-speed Parallel Port
Power Supply: AC Adapter DC12V x 3.5A
Dimensions: Width 150mm (5.9") x Depth 160mm (6.3") x Height 110mm (4.3")
History
The Nintendo GameCube was unveiled at Nintendo's Space World 2000 conference in Japan and released on September 14th 2001. The original code name was Project Dolphin but Nintendo chose not to call the console by this name instead changed it to "StarCube" for a short time, then ended up with "GameCube". While the 128-bit console is so small, it is more powerful than the
Sony Playstation 2
.
Nintendo's focus is on gameplay, making fun and exciting games that are very playable. The games promise to get the player more involved and be more realistic than ever before.
The GameCube was released in North America on November 18th 2001, while the European and Australian releases occurred in the second quarter of 2002.
Develop for GameCube
Like every game consoles development, it's necessary to get a license from the constructor. It will provide you the official development kit and all the technical documentations. You can get this license, if your project is approved by Nintendo, at this address :
http://www.warioworld.com/apply/gcn.html
Actually there isn't any other solution to develop for GameCube.