The Playstation (PSX) was released in Japan on December 2nd 1994 (for 39.800 yen). It was then released in North America on September 9th 1995 (for USD $299), selling over 100.000 units in the first weekend of sale, followed by Germany (21st September 1995), the rest of Europe (29th September 1995) and then Australia (October 13th 1995). Its release was not good for Sega whose Saturn console had only just been released.
The Playsation is better than the Saturn in some ways, but the Saturn still has some technical advantages over the Playstation such as the capability to handle more polygons and better sprite handling in 2D games. But the Playstation's main edge over the Saturn was that is was much easier to program for, thus developers could make great games very easily for the system. Unlike the Saturn, the Playstation has no built-in memory for saving games. Instead, it relies on Memory Cards (sold separately).
The PlayStation was hugely popular due to its huge library of games (almost 1000) and its cheap price. Just before Sony released the
Playstation 2
, they also re-released a newer version of the Playstation called the PSone. The PSone (released 1999) was a smaller, cheaper version of the system which allowed people who could not afford the Playstation 2 to still get a Playstation console. Games for Playstation are still continuing to be produced even after 8 years since the release of the original console.
Like every game consoles development, it's necessary to get a license from the constructor. It will provide you the official development kit and all the technical documentations. You can get this license, if your project is approved by Sony, at this address :
http://www.technology.scee.net/sceesite/software.html
However, there is or I should say there was another way to develop for Playstation. Sony gave to the public the opportunity to access to a smaller development kit called
NetYaroze
. This kit includes the same Playstation console but in black color and all the development tools, documentations and a cable to link the PC with the console :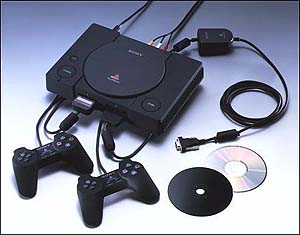 Now, Sony doesn't support anymore the NetYaroze. Since the Playsation 2 was released, there is no more interest for a such development kit. However all the registered users still can access to the resources and the site dedicated to the NetYaroze.